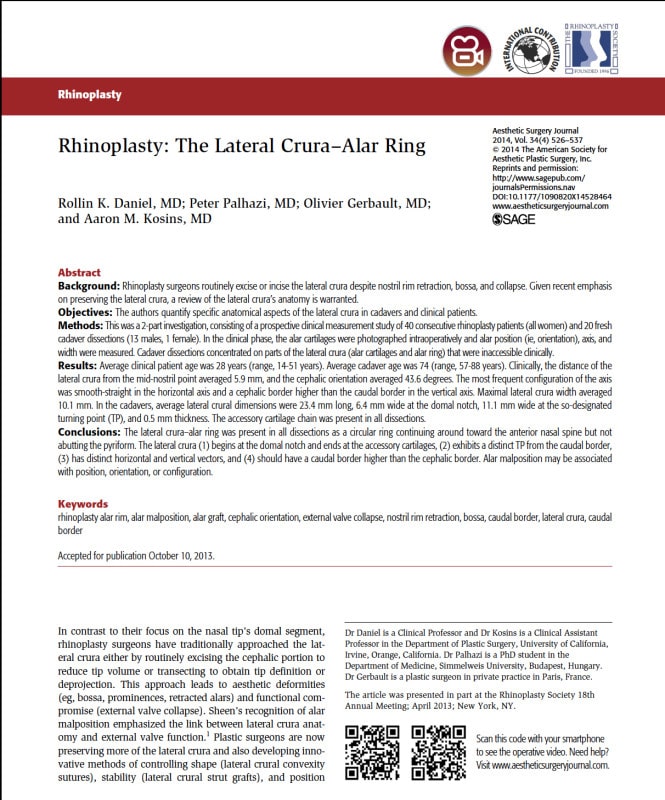 Since my first years in training, I have had a true passion for Rhinoplasty in Newport Beach. This began with my first book chapter on nasal reconstruction
and has continued with my publications and presentations about the nasal tip, the relationship between the brows and nose, and the embryology of nasal shape and structure. I was VERY fortunate to have been mentored by some of the most famous and talented rhinoplasty surgeons in the world. My apprenticeship included reading their books, directly assisting in over 100 cases, doing my own cases, and constant re-evaluation of my results. I will continue to be a student of rhinoplasty throughout my career, and strive to give back to the specialty through my ongoing research, presentations and publications.
Rhinoplasty in my opinion is the most challenging operation in Plastic Surgery, and my passion has led me to study with amazing surgeons and to present my work at national rhinoplasty meetings and in the Aesthetic Surgery Journal, which is the most widely respected aesthetic journal in the world. I could dedicate a whole website to rhinoplasty including anatomy, indications, and all of the different techniques and issues that arise. A true understanding of this operation and its implications years after the surgery requires ongoing study and being a part of the ongoing knowledge that is generated in this exciting field.
As an experienced Newport Beach Rhinoplasty Surgeon, Aaron Kosins, MD knows that every nose is unique. His rhinoplasty operations alleviate patient concerns about their nose using cosmetic surgery to achieve the desired appearance. His practice provides service for rhinoplasty not only in Newport Beach, CA, but also for patients from around the country.
I have divided the operations into primary and secondary/revision rhinoplasty. In breast augmentation, follow-up operations are expected because implants should be replaced about every 10 years. However, in rhinoplasty, experienced surgeons often deal with the second, third, fourth, and even more operations. This is because this is such a difficult procedure and has changed more drastically in the past 20 years than any other aspect of Aesthetic Surgery of the face. I perform both endonasal (closed) as well as open Rhinoplasty in Newport Beach depending on the patient, including their underlying anatomy and wishes.