COSMOPOLITAN MAGAZINE: Let's Talk about Botox

15 Questions You Have About Botox, Answered
No, it won't make your face look frozen.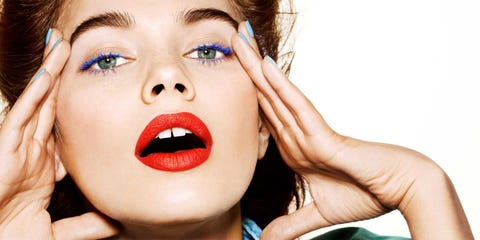 CHRIS CRAYMER/TRUNK ARCHIVE
1. What is Botox, actually? It's a drug, which is injected, that blocks the signals your nerves send to your muscles, telling them to contract. "The temporary paralyzation makes wrinkles less prominent," says Rachel Nazarian, MD, a derm in New York City.
2. I heard it contains a toxin. Should I be freaked? Not quite. It contains trace amounts of a toxin derived from bacteria called Clostridium botulinum, so small that it's measured in nanograms. It also has decades of safety on its side, says neurologist Mitchell Brin, MD, chief scientific officer for Botox at Allergan (the company that makes Botox). It has been FDA-approved since 1989 (originally for eye muscle disorders) and was approved for smoothing wrinkles between the brows in 2002.
3. Can it prevent lines? Getting Botox before you see lines as a preventative strategy can be a recipe for new problems, says New York City dermatologist Patricia Wexler, MD. "When you inject Botox into a young muscle — for many years on end — you risk overweakening it, causing the skin to sag," she says. Also, once you've frozen one muscle, your face can "recruit" others to help make the expressions you've just KO'd — leading to new wrinkles, says Dr. Nazarian. There's no rule, but if you're younger than 25, take a beat, says Dr. Wexler.
4. What parts of my face can be treated? Cosmetically, Botox is FDA-approved for treating crow's feet and between-the-eyebrow furrows (aka the 11s), but docs frequently use it off-label (which means your doc will use it for one purpose, but the FDA hasn't approved it for that particular use). For example, Botox is used around the mouth to reduce a gummy smile (by limiting the muscle movement in the upper lip). It can also "lift" the tip of the nose by relaxing the muscle that pulls it down.
5. How do I find a good doctor? Stick to a board-certified derm or plastic surgeon, pros who have way more than basic training, says Dr. Nazarian. The American Board of Medical Specialties' database (CertificationMatters.org) lets you see if your doc makes the cut. "Also, seek recommendations from family and friends," says Heidi Waldorf, MD, a New York City derm. (RealSelf.com, the Yelp of cosmetic surgery, is another resource.) And get a good look at your doc's and the staff's faces; they're likely using it.
6. What about my dentist? He offers Botox now. Not the best idea, says Aaron Kosins, MD, a plastic surgeon in Newport Beach, California. Some can start injecting Botox after a quickie one-day course. In contrast, a board-certified derm or plastic surgeon has undergone at least four or six years of training, respectively, in his or her field.
7. Are Botox parties or Groupon deals safe? Cut-rate Botox can be a red flag for ignorant — or worse, unethical — practices, warns Dr. Waldorf, who says that most medical societies frown upon these tactics. "There have been reports of counterfeit Botox being sold through unauthorized providers, often from outside the country," says Dr. Nazarin. "Unfortunately, some injectors see the cheap price and jump on it. Or they'll use real Botox but overdilute it with saline to create more profit per bottle."
8. What are Botox's risks? One potential side effect is a droopy eyelid, says Meghan O'Brien, MD, a New York City dermatologist. This can happen if the Botox spreads or your doc injects too close to the muscle that raises the lid. "Experienced doctors will know which area to avoid," she says. (FYI: The issue can be treated temporarily with prescription eyedrops and should resolve itself within several weeks.) Overinjecting or injecting too low on the forehead can also cause brows to droop and create a heavy look. That can't be erased — you'll have to wait until the Botox wears off.
9. When will it wear off? Generally, it lasts three to four months, but it can stick around longer, especially if you've had a high dose, says Dr. O'Brien.
Reposted From: http://www.cosmopolitan.com/style-beauty/beauty/a61819/questions-about-botox-facts/